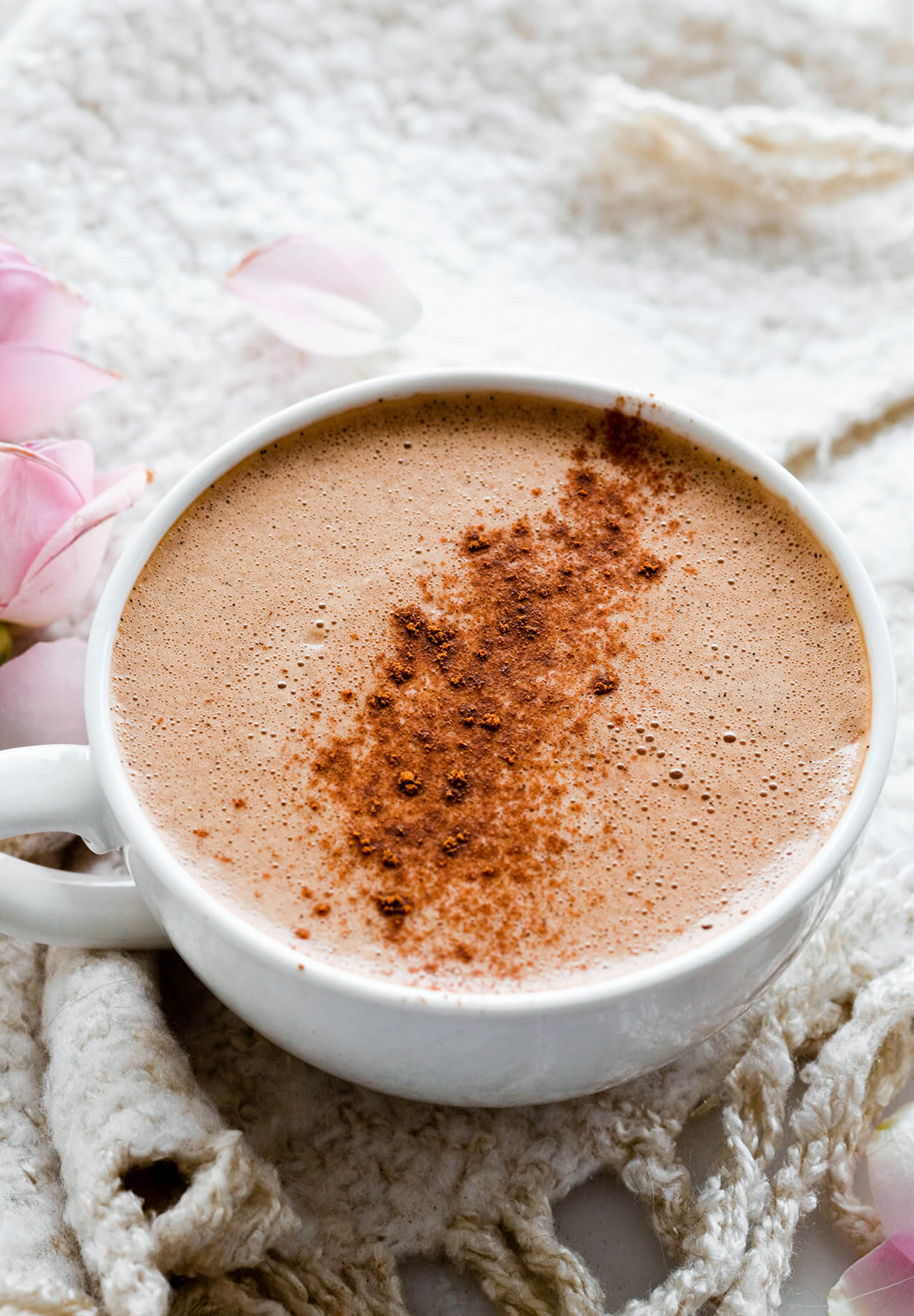 If you're like me and enjoy a cup of coffee every morning, you might just love this homemade recipe coffee powder as much as I do. It adds a delicious taste that is quite addicting, with lots of benefits!
Organic cocoa – this chocolate powder goodness has fiber, antioxidant, enhances mood, cardiovascular well being, highest plant-based source of iron, also has magnesium and calcium.
Collagen powder– collogen is the most abundant protein in our bodies. It is the major component of connective tissues that make up several body parts, including tendons, ligaments, skin and muscles. Collagen powder reduces wrinkles, keeps your joints strong and flexible, supports strong bones, and increases skin hydration.
Cinnamon is packed with antioxidants, has anti-inflamatory properties, reduces levels of bad cholesterol, and lowers blood sugar levels.
Black pepper (piperine) is high in antioxidants and has anti-inflammatory properties. Piperine has been shown to improve brain function in animal studies. It also helps the body absorb turmeric.
Turmeric (curcumin) is a powerful anti-inflammatory and is a very strong antioxidant. Turmeric helps boosts brain-derived neurotrophic factor, which is linked to improved brain function and a lower risk of brain diseases like Alzheimer. Studies also support curcumin decreases cancer growth and development.
Monkfruit is much sweeter than table sugar, has zero calories and carbs, and does not raise blood glucose levels. It does taste different from table sugar, but I like the taste. (I don't like Stevie or Splenda – and they're not good for you.) It's been used for centuries in traditional Chinese medicine and has anti-inflammatory properties, and may help prevent cancer and keep blood sugar levels stable.
Coconut Sugar has a low-glycemic index, contains potassium, magnesium, and sodium, which are all essential for regulating your body's water content as well as many heart, nerve, and muscle functions. It also contains iron, zinc, and calcium, which can have many health benefits, including stronger bones.
Mesquite powder – Not only is this loaded with fiber and protein, but is a natural sweetener and has minerals like, potassium, magnesium, calcium, zinc and iron. I have a high sense of smell, so I was a tad concerned I wouldn't like the taste. This powder adds a hint of uniqueness, and actually makes this coffee powder taste great.
Delish & Healthy Coffee Powder Recipe:
1 – 2 tsps. in your cup of coffee.
I also put 1 tsp. MCT oil (has lots of benefits) and a splash of organic unsweetened almond milk in my cup.
I use this frother to blend it well.
If you love cinnamon and/or are feeling fancy, sprinkle cinnamon on top!