Bone broth adds nutrients like calcium, magnesium and selenium, it's packed with collagen, witch is good for joints and skin, it helps reduce inflammation, aids in weight loss and fatigue. This is my go to remedy whenever a family member gets cold or flu-like symptoms. It's like a miracle drug! Just pull it out of the freezer, let thaw, and warm in a sauce pan.
I add pig's feet in my broth. I know it sounds gross, but they are loaded with collagen! When I use a traditional crackpot, I put it in my screened in porch – because it smells the whole house with broth smell – and cook on low for 24 hours. I also add salt and pepper to add a bit more flavor.
I have found the easiest way to strain the broth from the pot is to use metal tongs to remove the bones, then use a mesh collander to strain the rest into a large stainless steel bowl. Then you can use a funnel to poor into your glass jars. I use these mason jars.
The vegetables are very nutritious to eat, but make sure there are no small pieces of bone in them.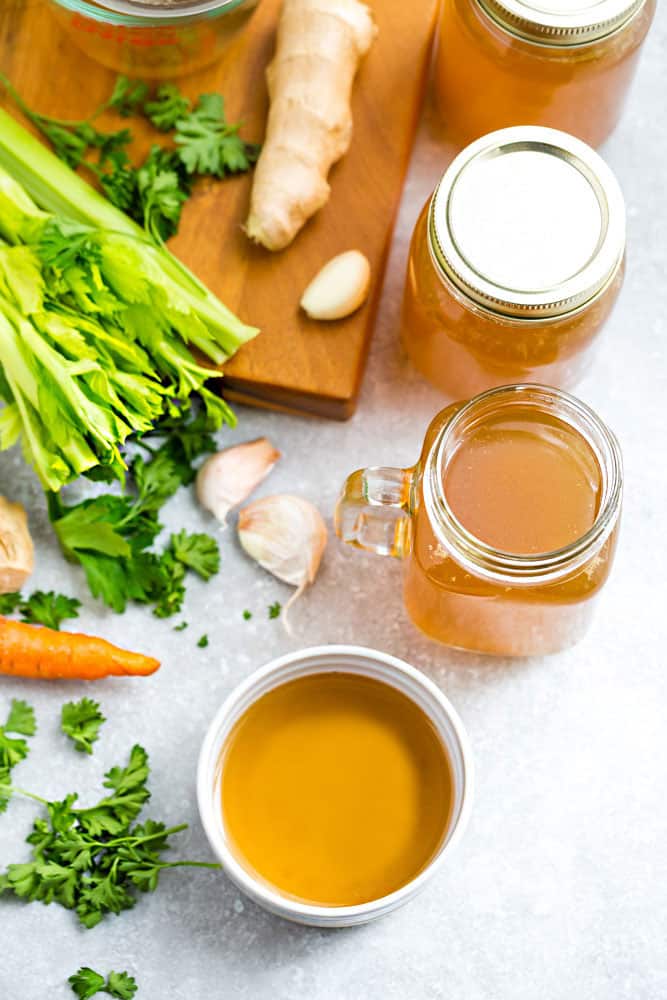 Bone Broth From 'Nom Nom Paleo'
This is an assortment of bones with fish sauce (for umami) and apple cider vinegar, which is said to help extract minerals from the bones. Paleo enthusiasts drink the bone broth as a restorative meal, but the broth works well in all kinds of soups and stews.
Ingredients
Makes 8 cups, active time 10 minutes, total time 1 to 24 hours
2 1/2 pounds assorted beef, chicken, and pork bones
2 medium leeks, trimmed, cleaned, and cut in half, or 1 small yellow onion, peeled, trimmed, and cut in half
1 medium carrot, peeled and cut into 3 pieces
8 cups water (add as much water as you can in your pot to get more broth)
2 tablespoons Paleo-friendly fish sauce
1 teaspoon apple cider vinegar
1/4 ounce dried shiitake mushrooms
4 garlic cloves, peeled and smashed
1 (1-inch) piece fresh ginger, peeled and cut into thick coins
Kosher salt or Celtic sea salt / cracked peppercorn
Procedures
Place the bones and vegetables in a large (at least 6-quart) stockpot, slow cooker, or pressure cooker, depending on your desired method of cooking.
Add water to the pot, making sure the bones and vegetables are fully submerged. If you're using a pressure cooker, don't fill it beyond two-thirds capacity.
Pour in the fish sauce and apple cider vinegar. If desired, add dried shiitake mushrooms, garlic, and/or ginger to the broth. Then, cook using one of the three methods below:
If cooking the broth in a stock pot: Cover and bring to a boil over high heat. Skim off the scum, and turn down the heat to maintain a low simmer. Cook, covered, for 12 to 24 hours, or until the bones are soft. Check occasionally and add more water if needed to keep the bones and vegetables submerged. Cooking on the stove top is the traditional way to make a pot of bone broth, but it takes a lot of babysitting. Patience is key!
If cooking the broth in a slow cooker: Cover and set to cook on low for 8 to 24 hours. (You can actually simmer it for days; some say that the longer you cook your broth, the more nutrient rich it becomes.) The advantage of using a slow cooker to make your broth is that you can leave the house without fear of burning it down to the ground. Still, you'll have to wait a long time before you can sip on a mug of broth, so plan ahead.
If cooking the broth in a pressure cooker: Lock the lid of the pressure cooker in place and cook over high heat. Once it reaches high pressure, immediately turn the burner down to the lowest possible setting ("simmer" usually works) that will still maintain high pressure. Set a timer for 45 minutes, and when it goes off, turn off the burner and remove the pot from the heat. Release the pressure naturally, about 10 to 15 minutes.
Strain the broth through a fine mesh sieve (or cheesecloth-lined colander) to filter out the bones, veggies, and any remaining scummy bits. Season with salt to taste. Drink up.
This broth will keep in a covered container for a few days in the refrigerator (or up to 6 months in the freezer). Once it's chilled, the bone broth should transform into a jiggly gel—a sure sign that it's loaded with gelatin. (And don't fret—it'll return to its liquid state once it's heated.)